Reader for professional goat farms
Automatically record daily milk measurements and any mutations in EGAM without manual entry. Why waste valuable time typing when the process can be done for you?
KEY CAPABILITIES
Transfer data easily from the barn to your computer
Data can be directly processed in EGAM
Software fully compatible with EGAM
Fast input
Manually enter goat metrics or read out electronic responders, as needed
Works fluidly within barn environments
Optimized for both small and large herds
Daily mutations reported: Birth data, mating data, health treatments, pen mutations, waste drainage, mortality measurements
Herd testing
Selecting pens and checking animal data in the barn by transferring data from EGAM to our handheld device

Handheld is suitable for:
On-site entry of goat metrics
RFID scanning
HR-reader has a high capacity, which meets the requirements of professional goat keeping.
---
Label printer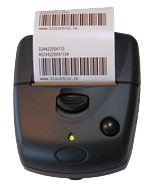 Our mobile label printer can be connected to the handheld reader, and creates barcode stickers for related to routine tasks such as blood or milk testing. Our label printer also integrates with EGAM.
For more information: ELDA, phone +31 (0)161-294794.