With your complete farm admin management and legal forms all in one place, our EGAM system offers…
Mandatory I&R reports to the LNV and to the Health Service (SG-online) for health certificates and VKI reports. Our system fully integrates the process and allows for one-push sends to automate the process for you
Transport documents I&R and transport declarations
Q-fever vaccinations and other treatment registrations
Legally required farm registration available as standard
Manure policy overviews, such as animal count days and monthly count overview. We also offer forecasts and up-to-date overviews of the production and placement of manure
Milk processing plant data available as standard
Automated analytics of your dairy data Click here to see an example
Easy to use animal overviews:
• Identification data. Click here to see an example
• Cycle data. Click here to see an example
• Milk production. Click here to see an example
• Pedigrees
Clear and easy to use herd testing. Click here to see an example
---
Herd Testing
LW-BSG
Annual breeding value
Our herd testing module is very comprehensive, both for farmer input and automated herd testing with fat and protein. The module provides many dashboards with various sorting options regarding sires used, pedigree charts, and overviews for the feed supplier.
The standard module contains the LW-BSG module with key figures specially developed for goat farming. For those who do regular herd testing with fat/protein percentage, the breeding value estimation of the goats and bucks is also determined 1x per year.
---
Connections:
Agrobase goats
Founded in 2012, Agrobase functions as a central database for management practices and knowledge across the goat sector. All parties and goat keepers can use the platform to check key figures and best breeding values throughout the industry.
Concentrates and milking installations
EGAM contains multiple modules that can be linked to various concentrate feed installations and milking parlors. Please contact Elda for more information.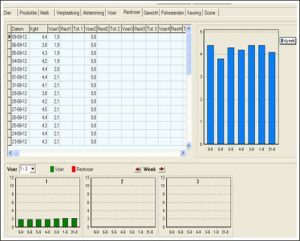 EGAM can also be linked to the handy HHR-reader.